The incident happened around 5pm, local time, on Las Ramblas, ​​one of the city's busiest tourist areas


Authorities have confirmed there is at least one person dead and up to 20 injured


Police in Barcelona have said the deadly van incident is 'most likely' a 'terror attack'


Van crossed the central promenade of the Rambla de Canaletas and crashed into a kiosk


Police are looking for a man of 1.70m, white shirt and blue stripes as a suspect


Local media have reported two armed men have entered a restaurant in the city


Subway stations are closed and people have been asked to 'avoid the area of ​​Las Ramblas'


Crowds of people fled Barcelona's Las Ramblas after a van collided with "dozens" of pedestrians, in what police say is "most likely" a "terror attack".
Reports on social media said on Thursday afternoon a large vehicle hit pedestrians on the famed walkway, a hotspot for tourists in the city.
El Pais, citing police sources, has said the perpetrators are "holed up" in a bar in the city centre. Earlier, media reported two armed men entering a restaurant. It's not known if these incidents are connected.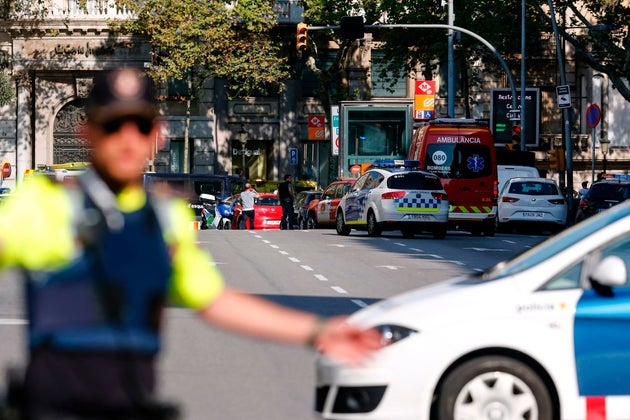 PAU BARRENA via Getty Images
A policemen stand as he blocks the street to a cordoned off area after a van ploughed into the crowd, injuring several persons on Barcelona's Rambla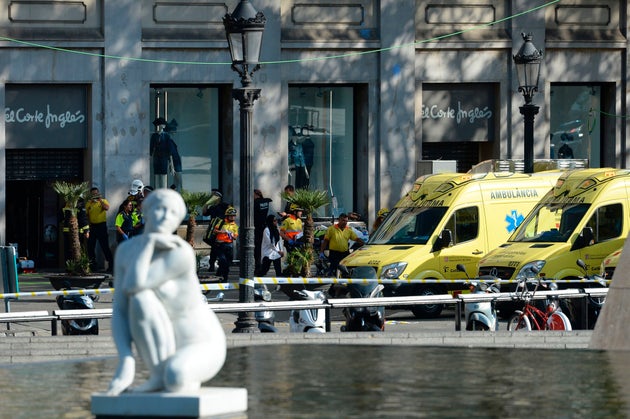 JOSEP LAGO via Getty Images
A person is stretched out of a mall by medical staff members in a cordoned off area after a van ploughed into the crowd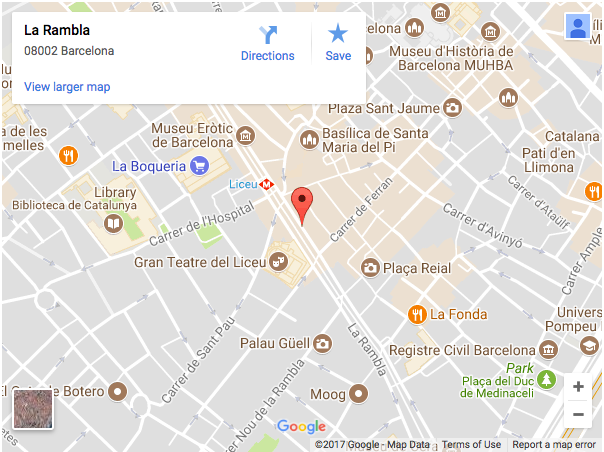 Google Maps
Las Ramblas is a popular tourist street in the heart of Barcelona
El National reported a van had struck the walkway, causing a stampede. The entire street has since been closed.
El HuffPost confirmed, via city police, at least one person has died and 20 injured.
The official Catalan Police has tweeted to confirm a "massive trampling" by a person with a van.
The Catalan ambulance service said on Twitter the situation is ongoing.
AFP reported police had described the incident as a "terror attack".
Authorities in the city have closed nearby public transit stations.
Pictures posted on social media show a police cordon in place. 
Other photos appear to show people lying on the ground, apparently injured, receiving treatment.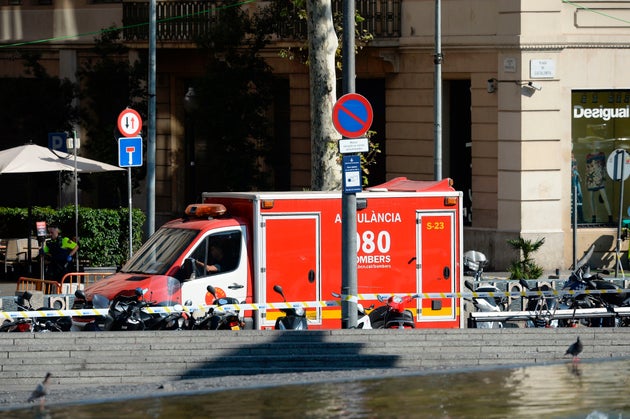 JOSEP LAGO via Getty Images
A policeman stands next to an ambulance after a van ploughed into the crowd, injuring several persons on the Rambla in Barcelona
El Pais reported that the van ran through a traffic light and fled the scene after mowing down "dozens" of people.
Other pictures show damaged stalls and other debris strewn across the pavement.
Video has emerged showing people running near to the scene.
Distraught witnesses were seen being led away from the Las Ramblas area.
Brits and other foreign tourists have tweeted after being caught up in the incident.