Summary:
The dollar pounded against six major currencies by the end of manufacturing council announced by Trump and dovish FOMC July minutes.


Gold benefited from the dive in the dollar and regained most of the lost ground on the week, potentially targeting last week's high of 1292.


K. July retail sales and EU July CPI due to release today are in focus.


The buck suffered a double whammy Wednesday. First, Trump ended manufacturing council after CEOs disbanded strategic and policy forum and which triggered fears over increasing displeasure at Trump and doubts about Washington's future policies. Second, FOMC July minutes released Wednesday showed policy makers were more cautious in response to recent sluggish inflation, with some members voted for a pause in rates hike until it was proved to be temporary. The greenback accelerated its decline after the release of the dovish minutes. The data to watch today are U.K. July retail sales and EU July CPI.
Technical
The (DXY) completed its corrective movement on the daily chart, with clear and significant resistances and bearish divergence in MACD indicator on 1 hour chart. Its short term moving averages descended rapidly below its long term moving averages, reinforced short-term declines of the price action. Watch the index and see if it continues to lose ground or not on the day.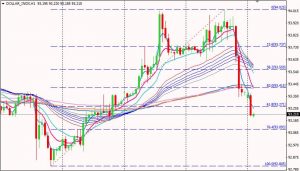 DXY H1 Chart
As to non-U.S. currencies, the euro rallied after finding support at daily EMA30, eyeing on EU inflation figure on the day. The sterling bounced back after consolidation. The British currency hit H1-EMA60, looking for a potential decisively breakout on the day. The Australian dollar rallied further on Wednesday, reclaiming 50% level of the decline from late July to the month of August. Wait and see if the commodity currency could sustain its bullish momentum or not today.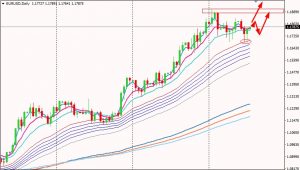 EUR/USD Daily Chart
Let's take a look at precious metals now. Gold tested twice the level at 61.8% Fibonacci of up move last week and confirmed its role of a support. The metal thus rallied rapidly in New York session, regaining most of lost ground on the week, with potential to test 1292 high again today. The gold's rise gained momentum mainly thanks to the weakness in the dollar. The gold resumed its negative correlation of the dollar after the risk-aversion sentiment eased.
Gold H4 Chart
Disclaimer: The views and opinions expressed in this article are those of the authors and for the purpose of reference only, and shall not be relied upon by investors in making any trading decisions.